SKY installers London
Multi-trade install and repair SKY dishes in London. We provide SKY installation, satellite dish re-alignment, SKY HD, SKY +, Sky multi room and troubleshooting services for homeowners in North London, Central London, South London, West and East London. In fact, anywhere inside the M25.
Independent SKY satellite system installation London
Multi-trade is an independent SKY installer. We specialise in SKY dish installations where authorised SKY installers have failed or refused to carry out the task. If you have been turned down by SKY themselves, speak to us - we may be able to help you.
SKY satellite services

Non standard SKY installations
SKY repairs & SKY satellite dish re-alignment
LNB upgrades and repairs
SKY +, SKY HD, SKY 3D, SKY Multiroom
Remote eyes & Magic eyes for SKY
High Rise & commercial SKY installations
Commercial SKY installations

We specialise in SKY installations for businesses and commercial applications. We will install SKY quickly and effectively into offices, gyms, pubs, clubs, restaurants and shops.

We will also fit and repair SKY dishes for multiple blocks of flats and high rises.



We pride ourselves on our open and honest pricing - our satellite services can be provided to you by way of a fully specified quotation which gives you a full breakdown of the costs involved, including materials and labour. The daily rate is usually cheaper if we undertake the work on a project over several days. If your job is smaller we can usually supply a professional tradesperson on an hourly rate basis as shown below:
| | | |
| --- | --- | --- |
| Satellite system installation | £80.00 per hour | £100.00 per hour |
| Freeview installation | £80.00 per hour | £100.00 per hour |
| Plasma mounting | £80.00 per hour | £100.00 per hour |
| Home Cinema set up | £80.00 per hour | £100.00 per hour |
| Quotation | FREE | N/A |
All prices exclude VAT
Hourly rate charges are billed in 15 minute intervals with a minimum charge of one hour
All prices exclude congestion & parking charges (unless a parking permit for the duration of the visit is provided)
All prices exclude costs for materials which will be charged at list price + 30%
The final charge will include reasonable time to obtain parts although our engineers carry most spares with them.
Quotations are free of charge as long as you let us know of your decision within 14 days of issue. If you do not inform us of your decision, an administration charge of £25.00 will be levied. You can inform us of your decision using the link in the quotation e-mail or Call us on 020 8798 9250 quoting your reference number




I had a problem with my Sky satellite dish that no-one could seem to fix. As the cricket was coming up I was very keen to get it sorted as soon as I could. Multi-trade was the 3rd company that came to look. In fairness, even they had to call their specialist. But he repaired it where no-one else could. And so I take my hat off to Multi-Trade. If you need your satellite to work, there is no-one better.
John Richards, London

When Sky came out to install our dish, I couldn't believe it when they said it wasn't possible. I called their customer services and they sent someone else. He also said that it was impossible to fit a dish. When they said they would send someone else, I told them to forget it. I found Multi-trade on the internet. And that turned out to be very fortunate. Because, they could fit the satellite dish.
Grace Potter, London

Thanks for sending Ryan. He is a brilliant engineer. I really didn't think that we would be able to get it working without replacing the cable in the walls. But he knew exactly what to do and it works perfectly. I just wish he could finish the rest of the extension!
Anna Schroeder, London

Yes, thanks for that. I really needed it [satellite dish re-aligned] done quickly, so I'm really pleased.
Timothy Pace, London

We had a really difficult time getting Sky to install our satellite system. It seemed whenever anyone from Sky came to look at it, I was told that the property wasn't suitable for Sky television and I wouldn't be able to get the service. Unfortunately, we didn't have Virgin in our area and I had to watch Freeview. A friend knew someone who worked for a company called Multi-trade and that they had fixed her TV aerial. She said they were pretty good, so I gave them a call. They sent an engineer who told me exactly why Sky wouldn't fit my dish. I was very surprised! He said that he could fit it, however. I got a quote. It was reasonable and I went ahead. And guess what - he fitted it and I can now watch Sky! What a good company.
Laura Daniels, London

I'd be happy to provide you with a testimonial. You did a very good job and I would recommend you to anyone.
Theresa Waites, London

I was quite lost when sky stopped working this morning. Thanks for sending James. He was very friendly and polite. And he did a very good job. It's quite refreshing to get good service these days. Well done.
Dennis Johnson, London

When I couldn't get my Sky dish fitted from Sky I was very frustrated. So I very pleased that you fitted it. I would be happy to recommend you to anyone who needs a satellite dish fitted.
Henry Campbell, London



There are plenty of companies out there competing for your business - and you need to make sure you're armed with all the facts before you make a decision about which one to choose. Here are a few things to check before you decide - we're confident that if you're looking for great service you'll choose Multi-Trade!
Does the company or tradesperson you're considering offer free quotations?
Do they offer an open and honest pricing structure with no hidden costs?
Do they have a contactable office, not just a mobile in case of any queries?
Does anyone answer the phone in the day?
Are their tradespeople honest, reliable, polite and vetted?
If the answer to any of these questions is 'no' then give us a call - we can confidently answer 'yes' to all of these questions. Not sure? Check out our testimonials page to see what some of our previous customers think of our customer service!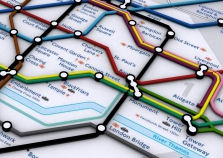 We cover the whole of London!