Burglar alarm installer London | intruder alarms | supply and fitting London
Multi-trade install burglar alarms in London and inside the M25. If you need advice and guidance on the right alarm system for your home and you live North, South, East or West London - Call us on 020 8798 9250. We provide free, onsite quotes.
Why should I install a burglar Alarm?
If you live in or around London, crime is an ever increasing problem. Installing a burglar or intruder alarm can prevent burglars from breaking and entering your property. They can help protect your possessions, occupants and lower your insurance premiums. It is always a good idea to display a burglar alarm box and bell at the front of your property to act as a deterrent to criminally minded individuals.
When targeting properties most burglars are opportunists, looking for the lowest risk property to enter. This is likely to be a property without an intruder alarm.
As we don't sell any particular type or brand of burglar alarm system, we can offer you free, impartial advice on the best type of intruder alarm system for you circumstances, property and budget.
Bell only alarm

A bell only burglar alarm makes an audible noise from an external or internal bell when the alarm is triggered. Once activated a bell only or audible alarm will deter all but the most determined intruders and alert the neighbours. However, it does not generate any other type of response.
Speech Dialler Alarm System

A speech dialling alarm system enables a burglar alarm system to send voice messages to any number of landline telephone numbers or mobile phones. The message can be personalised. In the event of activation the alarm will call the telephone number and deliver a voice message. That message might say 'Attention there has been a break-in'. This type of alarm is especially useful for small business premises and shops. A speech dialler can usually be added as an additional piece of equipment to most systems.
Monitored intruder alarm systems

A monitored alarm system is connected via a telephone line to a remote central monitoring station. The signal is monitored 24 hours a day, 365 days a year. In the event of activation a number of responses can be triggered such as informing the police or the property owner. A monitored alarm system service starts from nbsp;20 per month plus installation.
Panic alarm

A personal attack alarm or panic alarm is activated by a button - usually placed in a bedroom. In the event that the home owner feels threatened it can be activated to trigger the burglar alarm system. Depending on the type of alarm, the system can inform the police, a speech dialler or a designated third party of the situation.



We pride ourselves on our open and honest pricing - there are no hidden charges and for repair services we even charge in 15 minute intervals after the first hour - beat that! Take a look at our pricing list for a guide on how much you can expect to pay. For fixed price projects such as burglar alarm installations and CCTV installations we can provide you with a fixed price and what's more, the quotation is free!
| | | |
| --- | --- | --- |
| Fault finding | £80.00 per hour | £100.00 per hour |
| Burglar alarm testing | £80.00 per hour | £100.00 per hour |
| Burglar alarm system quotations | FREE | FREE |
| CCTV system quotations | FREE | FREE |
All prices exclude VAT
Hourly rate charges are billed in 15 minute intervals with a minimum charge of one hour
All prices exclude congestion & parking charges (unless a parking permit for the duration of the visit is provided)
All prices exclude costs for materials which will be charged at list price + 30%
The final charge will include reasonable time to obtain parts if the jobs is to be completed on the same day
Alternatively, a fixed price of £30 can be applied for collection and delivery on an alternative day
Quotations are free of charge as long as you let us know of your decision within 14 days of issue. If you do not inform us of your decision, an administration charge of £25.00 will be levied. You can inform us of your decision using the link in the quotation e-mail or Call us on 020 8798 9250 quoting your reference number




From the first time we contacted Multi-Trade, to the quote and finally the installation of the alarm itself, we've had a first rate service. I'd be more than happy to recommend your professional services.
Peter Webb, West London

I was very happy with your service. Your operative was knowledgeable and informed. He gave us plain advice with no jargon. We were happy to go ahead with the order and we are happy with the alarm. Luckily, it hasn't been activated yet!
Olivia Holmes, South London

Yes, I am very happy with the CCTV system. You provided a very good service for us.
Thomas Weston, West London

We're very pleased with your service. An excellent price and a fast service. We have placed you on our PSL and we look forward to doing more business with you in the future.
Zoe Holloway, North London

Peter was very good. Arrived quickly and stopped the alarm ringing, which was making me feel sick by the time he came. I'm pleased I called you. Yes, I would certainly use you again.
Gerard Mills, North West London

Thank-you for your prompt service. Your engineer was very punctual and very polite. I have already passed your details onto my neighbour.
Arnab Sajan, Central London



There are plenty of security companies out there competing for your business - and you need to make sure you're armed with all the facts before you make a decision about which one to choose. Here are a few things to check before you decide - we're confident that if you're looking for great service you'll choose Multi-Trade!
Does the company or tradesperson you're considering offer free quotations?
Do they offer an open and honest pricing structure with no hidden costs?
Do they have a contactable office, not just a mobile in case of any queries?
Does anyone answer the phone in the day?
Are their tradespeople honest, reliable, polite and vetted?
If the answer to any of these questions is 'no' then give us a call - we can confidently answer 'yes' to all of these questions. Not sure? Check out our testimonials page to see what some of our previous customers think of our customer service!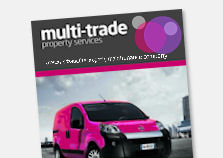 If you'd like us to send you a free copy of our brochure please visit our '
contact us
' page and select 'brochure request'.