Electric gate installation, repair and supply London
Multi-trade supply, repair and install automatic and electrically operated gates in London. If you need to talk to an expert about electrically operated driveway gates in South London, North London, East London, West or even Central London - give us a call on 020 8798 9250.
Electronically operated, automatic gate opening
Ideal for underground flats, access to mews, car parks and houses - an electronically operated automated gate opener will enhance any property. Each automated gate system can be individually tailored to meet your unique requirements or you can choose a standard design. In many cases, the mechanism itself can even be retro fitted to an existing gate.
Each gate can be opened in different way - by a sensor to open for anyone, with a key fob to limit access, a keypad or an infrared handset that can be used from a vehicle.
Upgrading gate pillars

When installing electronic gates, the gate pillars need to be large enough and strong enough to cope with the stress involved in opening and closing the automatic gates. The existing pillars may need to be re-enforced internally using steel rods and braces. When building new pillars to hang the gates on, we will design and build them to withstand those stresses.
Building walls and fences

When installing automatic gates, it is often a good opportunity to improve the overall security or look of the property by replacing the garden fences or walls. We have many years experience replacing garden fences and building garden walls in London.
Digging up driveways?!

Sometimes, in order for the gates to open and close smoothly, it is necessary to level off the area surrounding the new gates. We can do this quickly and efficiently. It is sometimes a timely opportunity to upgrade the driveway. In our landscaping department we have many years experience laying patios, paths and driveways in London.
Electrical safety and installation

An automated, electronic gate opening system is an electic installation and as such the mechanism must be installed by a qualified electrician. We will supply a fully qualified NICEIC electrician to ensure that your gates are installed safely.



We pride ourselves on our open and honest pricing - there are no hidden charges and for repair services we even charge in 15 minute intervals after the first hour - beat that! Take a look at our pricing list for a guide on how much you can expect to pay. For fixed price projects such as burglar alarm installations and CCTV installations we can provide you with a fixed price and what's more, the quotation is free!
| | | |
| --- | --- | --- |
| Fault finding | £80.00 per hour | £100.00 per hour |
| Burglar alarm testing | £80.00 per hour | £100.00 per hour |
| Burglar alarm system quotations | FREE | FREE |
| CCTV system quotations | FREE | FREE |
All prices exclude VAT
Hourly rate charges are billed in 15 minute intervals with a minimum charge of one hour
All prices exclude congestion & parking charges (unless a parking permit for the duration of the visit is provided)
All prices exclude costs for materials which will be charged at list price + 30%
The final charge will include reasonable time to obtain parts if the jobs is to be completed on the same day
Alternatively, a fixed price of £30 can be applied for collection and delivery on an alternative day
Quotations are free of charge as long as you let us know of your decision within 14 days of issue. If you do not inform us of your decision, an administration charge of £25.00 will be levied. You can inform us of your decision using the link in the quotation e-mail or Call us on 020 8798 9250 quoting your reference number




I was very happy with the whole job. From the design and planning at the the start, the hard working guys that installed the gates and finally to the electrician who wired it all up. It's a very good service and I would be certain to recommend you to anyone looking for electric gates.
James Goodale, West London

I would be happy to provide you with a testimonial because I was very happy with the repairs you made to my electric gates.
Harry Hollowell, Central London

I am writing this email to let you know how happy I am with the gates. Not only do they look excellent but they open and close beautifully. Your team performed very good work at what I personally thought was a very good price. I think you are providing a very good service to your customers and I will certainly recommend you to my neighbours, who having seen my gates, are very keen to get a set installed themselves.
Samantha Lentz, North London



There are plenty of companies out there competing for your business - and you need to make sure you're armed with all the facts before you make a decision about which one to choose. Here are a few things to check before you decide - we're confident that if you're looking for great service you'll choose Multi-Trade!
Does the company or tradesperson you're considering offer free quotations?
Do they offer an open and honest pricing structure with no hidden costs?
Do they have a contactable office, not just a mobile in case of any queries?
Does anyone answer the phone in the day?
Are their tradespeople honest, reliable, polite and vetted?
If the answer to any of these questions is 'no' then give us a call - we can confidently answer 'yes' to all of these questions. Not sure? Check out our testimonials page to see what some of our previous customers think of our customer service!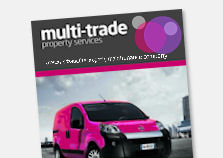 If you'd like us to send you a free copy of our brochure please visit our '
contact us
' page and select 'brochure request'.